Instructors Kristina and Heather compete regularly in pole and aerial competitions and hold several titles between them.  However, they also encourage students to compete.
Students have competed in the Kent Pole Championships every year since its incorporation in 2014 and one student made the final of Miss Pole Dance UK Amateur in 2014.  In 2016 Team Phases also made the final of the doubles/ group category of Heir to the Chrome.
Heir To The Chrome 2016
Phases entered a group into the doubles/group category and made it to the final.  The video of this routine can be seen here.
Team Phases consisted of Kristina Walker, Heather Walker, Georgia Skinner, Hayley Bradley, Jodie Bateman, Karen Charlton, Kinga Olesiewicz, Nicki Gray and Sam Terry.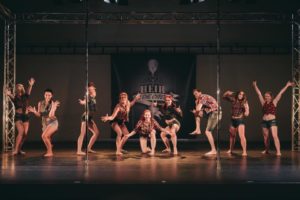 Kent Pole Championships 2016
Hazel Harris – beginner category
Kinga Olesiewicz – intermediate category
Tracy Brain – intermediate category 1st place and best entertainer
Nicki Gray – advanced category
Sam Terry – mens category
Jodie Bateman and Hayley Bradley – doubles category
Karen Charlton and Georgia Skinner – doubles category
Kent Pole Championships 2015
Hazel Harris – beginner category
Kinga Olesiewicz – intermediate category 2nd place
Miss Pole Dance UK 2014 Amateur
Kinga Olesiewicz
Kent Pole Championships 2014
Emma Wilson – beginner category
Lindsay Frawley – beginner category
Sophie Beeby – beginner category
Kinga Olesiewicz – beginner category
Shannon Goodsell – beginner category 2nd place
Josie May Lemmer – intermediate category
Nicki Gray – advanced category