Heather Walker – Owner and Instructor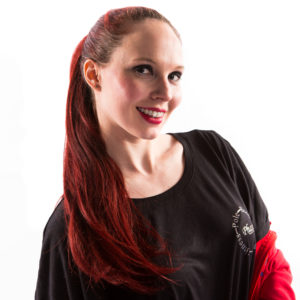 Heather started dancing when she was four and is trained in many styles of dance, including Latin and Ballroom, Rock n Roll, Freestyle, Contemporary, Jazz and Burlesque. She is also an ex-gymnast specialising in tumbling and sports acrobatics.  When Heather was 14 she started coaching gymnastics and gained her first coaching qualification at the age of 15.
In 2009 she discovered pole dancing and after only seven months she entered her first competition in the intermediate category and won.  Since then, she has gone on to gain several more titles.  In 2013 she moved to Kent to do doubles pole with her sister, Kristina.  Together they have represented Great Britain three times, placing in the top five twice, and finishing in the top 10 all three times!
Heather has also dabbled with aerial arts over the years and started competing in aerial hoop in 2015.  In 2016 Heather won the UK Aerial Performance Championships professional lyra category.
Although Heather studied Law at university and graduated with a 2:1 LLB Hons, her passion has always been dance and fitness.
Heather is also a brand ambassador for Backbone Polewear.
Qualifications
Level 2 Exercise to Music Instructor
Level 1 and 2 Bokwa Dance Fitness Instructor
Level 1 and 2 Xpert Pole Instructor
Level 1 Xpert Aerial Silks Instructor (Certification)
Spin City Beginners, Intermediate and Advanced Pole Instructor (Certification)
Spin City Beginners and Intermediate Hoop Instructor (Certification)
Spin City Stretch and Flexibility Instructor (Certification)
IDTA Associate Freestyle Teacher
ABD Pre-Associate Latin and Ballroom Teacher
Level 1 British Gymnastics Assistant Club Coach – General Gymnastics
Level 2 British Gymnastics Coach – Sports Acrobatics
St John Ambulance First Aid Certified
NSPCA Child Safeguarding Certified
Level 1 Award in British Sign Language
Achievements
North Wales Pole Championships Intermediate Champion 2010
All Wales Pole Championships Advanced Champion 2011 and 2012
UK Professional Pole Chmapionships Instructor Runner-Up 2012
All Wales Pole Championships Professional Champion 2013
Miss Pole Dance UK Professional Doubles Runner-Up 2013
Miss Pole Dance UK Professional Doubles Champions 2014 – plus Best Tricks and Best Costume
Miss Pole Dance UK Professional Female Best Entertainer 2014
UK Professional Pole Championships Elite Finalist 2014, 2015 and 2016
Pole Sports UK Elite Doubles Champions 2014 and 2015
IPSF World Pole Sports Championships Elite Doubles top 5 2014 and 2015
UK Aerial National Championships Professional Hoop Runner-Up 2015
UK Aerial Performance Championships Professional Lyra Champion 2016
International Pole and Aerial Tournament Doubles Hoop 3rd Place 2016
IPSAF World Pole Sports Championships Doubles Finalist 2016
Model for the Spin City Pole Doubles Bible